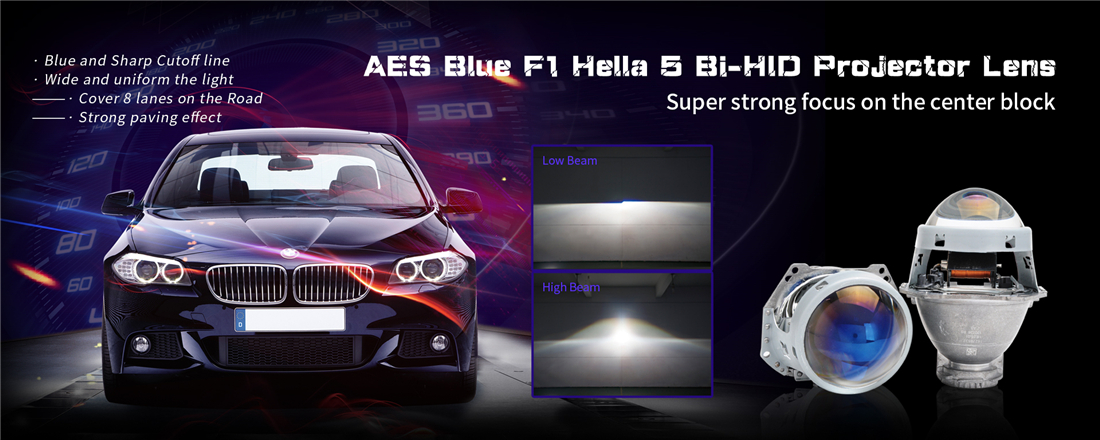 AES Kingkong F1 Hella 5 Bi-xenon Blue Projector Lens
1. Specification:
Model:AES Kingkong F1 Blue Glass Hella 5 projector lens
Brand Series: Kingkong
Size: 3.0 inch
Bulb used: D1S/D2S/D3S/D4S HID Bulbs
Installation: All headlight housings as long as there is enough space, modification is needed
Warranty: 12 Months
Quantity:2 pcs projector lens with necessary parts
2. Introduction
Kingkong F1 the latest style and top series of blue film Hella 5 projector lens, all brand new projector headlight retrofit kit,made of durable Real glass blue film technology, give a crisp sharp and blue cutoff line and bring much more even bright light output in real road driving. Its novel and distinctive design of blue film, excellent lighting performance make it the most popular choice by car guys, and keeps the best selling .
It is a high/low beam combined bi-xenon hid projector type, the electomagnetic drive inside the reflector bowl has been tested more than 30000 times before shipping out from factory, so you can rest assured that the high low beam can be switched smoothly , and will not stuck.
Beam Pattern:
Low beam is extremely featured at its wide and broad, sharp blue cutting off line, legal excellent beam pattern on lighting the road, never worry about the both sides of the road edge are lack of enough light or in dark visual condition,thus reduces traffic/road accident. Meanwhile, all the effective light will focus on the road , will not blind the oncoming cars;
High beam is srong focus on the center block, much more wider and higher compared to ordinary projector lens, powerful bright in long distance, give you an unexpectd new visual experience when driving.
Bulb Used:
Kingkong F1 D1S Type can use xenon D1S/D2S/D3S/D4S bulbs
Compatibility :
Application: Universal (Cars/Trucks/UTV/Pickups/Motorcycles)
Kingkong F1 D1S type , require modification to all car headlight housings
3 Pictures as follows: